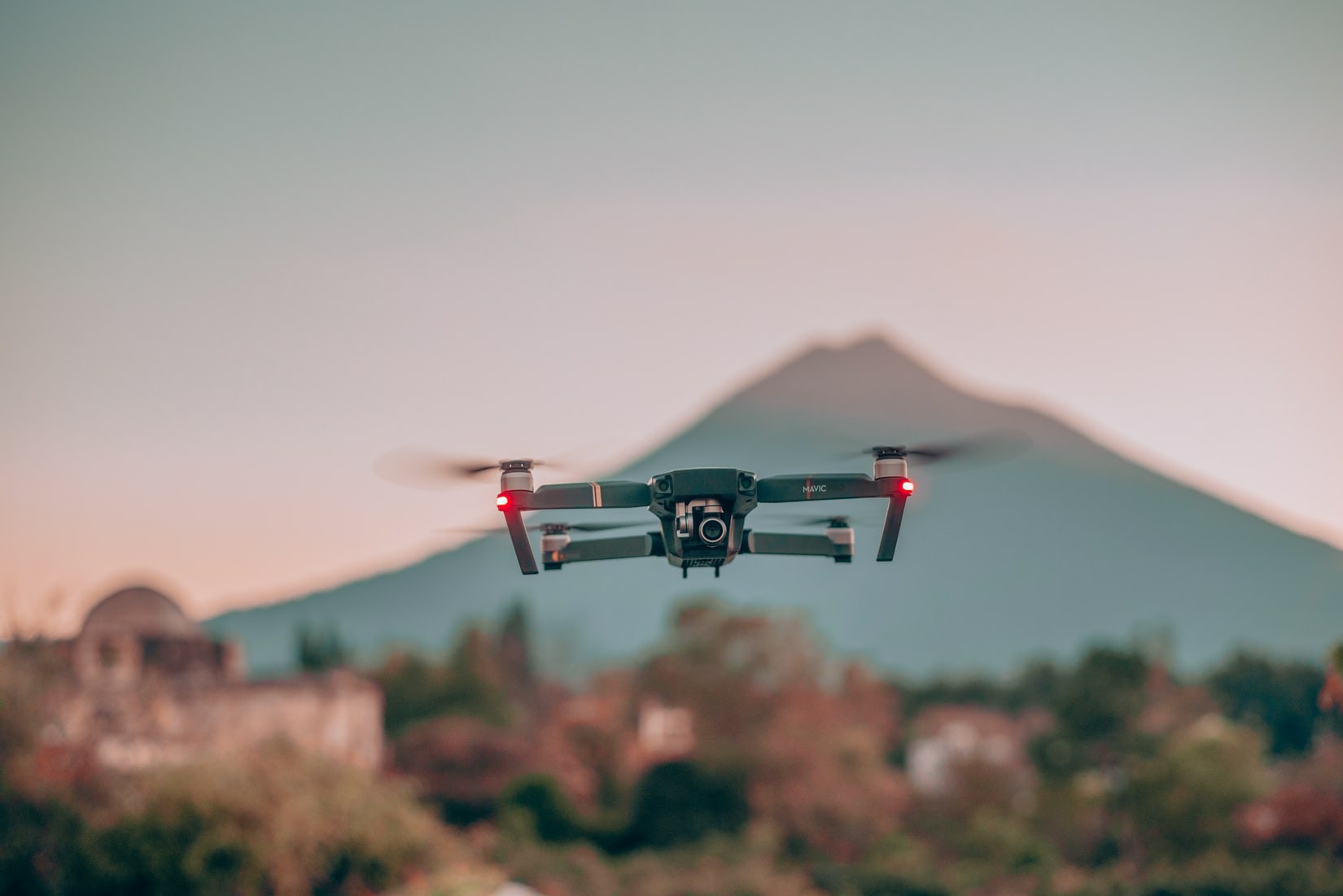 The drone or Unmanned Aerial Vehicle (UAV) industry in Africa is taking off and it is evolving into a massive enterprise. People have begun to recognize the many benefits of using UAVs for commercial and non-commercial purposes, which boosted the growth of this rapidly emerging industry. The recent investment of the renowned world-class drone and aviation company XM2 PURSUIT into  CharisUAS a Rwandan aerial solution provider reflected how the world is expecting a lot from the drone technology in Africa.
Nowadays, drones are being used to solve some socio-economic or environmental problems. In many African countries with poor road infrastructure, drones are proving to be an efficient way of providing logistical services for the delivery of supplies in rural areas. UAVs are extremely important for the modernization of African agriculture, as they bring more efficiency, precision, and reliability at a much lower cost. UAVs help to optimize agricultural yields because they significantly reduce production costs. In this article, several use cases will be described. According to Mediatech Africa (a biennial advanced media and entertainment technology trade show) director, Simon Robinson, drone technology is a powerful tool for many sectors of the economy but it's undeniably disrupting and drastically altering the events, media, and film-making industries.
How is Africa adopting UAV technology?
This drone technology is bringing innovation into people's everyday lives. UAVs are no longer used only for surveillance or as defense tools in the military. In developing countries, and in some countries on the African continent, the state of infrastructure, especially roads in rural areas, can be a hindrance to development. Under certain conditions, UAVs can help overcome this lack of infrastructure, and investing in UAV technology could help meet regions demands more efficiently and cost-effectively. UAVs are currently used in various sectors in Africa, such as:
Collecting Data for Geographic Information Systems and Big Data
Geographic Information Systems (GIS) are used to map, visualize and analyze territories.  Several African companies are currently using GIS drones to collect aerial photos that are clearer than satellite photos. Compared to manned aircraft, which are used to capture space imagery, UAVs are flexible and capable of flying in place and accessing areas that cannot be reached by large aircraft. UAVs can be deployed quickly and regularly used routes can be automated, minimizing human error. They are also more environmentally friendly and significantly reduce the risk of damage to people or property. Finally, UAVs are useful in the collection of emission data and geographic information for surveys; they can collect information on particulate matter and other air pollutants(CO2, CO, NH3, SO2, O3, and NO2). So for collecting data that require aerial positions drones are the best tool to use because they can be positioned exactly on the targeted spot. According to the research article "Autonomous monitoring, analysis, and countering of air pollution using environmental drones", Environmental drones are able to collect data and send them to a computer at the monitoring station on the ground and produce the Air Quality Health Index (AQHI) maps of the regions covered using a custom-designed software for environmental data monitoring and analysis. For companies that do big data analytics and machine learning,  drones can dramatically reduce the amount of time spent on the field because they can capture multiple types of data on one flight.
Drones in Agriculture
The farming community has largely gained from the introduction of UAVs. Farmers face the challenge of producing enough food to meet demand, but crop yields can be difficult to predict. Farmers can use UAVs to monitor their fields more efficiently and determine much faster where and when they need to spray insecticide, water the fields, or any other action that may be necessary. 
Drones in Healthcare
According to the World Health Organization (WHO),  In 2017, an estimated 295,000 women died worldwide from largely preventable causes related to pregnancy and childbirth, with two-thirds of these deaths occurring in sub-Saharan Africa. This was due to the fact that the blood could not get to the patient quickly enough, as traditional means of transport take far too long due to poor road infrastructure and long distances. In Africa drones can now be used to deliver blood and vaccines in remote areas, others are used to spray larvicide in the swamps to fight against malaria.
Some examples of  drones' projects in Africa
The projects below are in different sectors in Africa, Healthcare, agriculture, GIS, security, Photography, Manufacturing, etc… 
Drone Africa Service
Drones are being more and more developed on the continent because they offer advantages adapted to the local reality: the vastness of the territories, low costs of use, rapidity of airway transportations, etc. In Niger, the company Drone Africa Service went for the production of civilian drones (differing from military drones, first models ever to see the light) dedicated to aerial photography as well as other services targeting multiple sectors: agriculture, environment, protected areas surveillance, prevention and risks and disasters managing, construction industry, communication, tourism, etc. The startup aims at becoming the leader of aerial imagery in West Africa.
i-Drone Services Limited
i-Drones Services Limited is a Zambian company created in late 2016. It uses drones to monitor and analyze farms as well as taking decisions to improve their yields. Moreover, the company has a specific initiative which is the "Idrone4ag youth project", whose purpose is to form rural youth to the use of drones. The long-term objective is to create qualified agricultural jobs to avoid rural exodus.
Zipline
The partnership between the Silicon Valley company Zipline and the Rwandan government gave birth to an innovative device whose impact on citizens' health is crucial: since 2016, some hospitals and medical centers are able to order blood bags in emergency cases and have them delivered by drones. This significantly hastens the delivery and enables medical practitioners who are working in areas where donations are rare to save lives. The Zipline drones can bear up to 1.5kgs cargo and go up to a 90km/h speed. Geo-tracked, the device is monitored and programmed to deliver the cargo in a perimeter around the area the ordering originates from. This initiative shows how new technologies can have a crucial impact on health. This company that plans to deliver blood, drugs, vaccines, and other medical supplies to health centers in remote areas has now extended its services to Ghana.
ATLAN Space
Founded by the Moroccan startup Smart Life Innovation, co-founded by Badr Idrissi and Younes Moumen in 2016, the project Atlan Space offers a surveillance solution thanks to drones driven by artificial intelligence. With a covering capacity of 2 000 ha per hour, and a range reaching up to 800 km, this aerial surveillance system by smart drone was conceived to combat harmful phenomena targeting Moroccan and African sea resources like illegal fishing, surface sea activities as well as oil discharging in the oceans. The smart solution centered on the economy and the preservation of the environment, Atlan Space has notably won the innovation award of the African Entrepreneurship Award launched by the BMCE in 2017, after benefiting from financial support from Microsoft, the UN Organisation for Industrial Development, and the Moroccan government. 
Charis UAS
Charis Unmanned Aerial Solution is a Rwandan company, offering commercial drone services, specialized in understanding customer requirements, build systems, and integrate sensors, UAV, and Data solutions to deliver high-quality service. These include UAS consulting, UAV building and system integration, pilot and safety training, maintenance of UAVs. The company has initiated drone solutions for farmers working in rural areas to determine the required amount of fertilizers for their wheat. They have also collaborated with the Ministry of Health to deploy drones to fight malaria, and have worked with the Government to map wetlands.
FasoDrone
FasoDrone is a drone system design and aerial data processing company based on artificial intelligence. It provides timely and accurate data for quick and profitable decisions with low risk. It offers solutions to actors in the fields of agriculture, mining, building and public works (BTP), urban development, environmental protection, and media. It is based in Burkina Faso.
Map Action
Map Action is a technological innovation initiated by Kaicedra-consulting in Mali. They are specialized in the geo-localization of problems or areas of interest, mapping, monitoring, and provision of databases in the fields of environment, WASH (Water, Sanitation and Hygiene), and sustainable development.
Zenvus
The agri-tech, or the use of new technologies (sensors, drones, GIS, mobile banking, etc.) in the agricultural field, is more and more developed in Africa, with numerous projects and startups launched these past few years. It is the case of the young Nigerian company Zenvus, which uses electronic sensors to collect soil data regarding its humidity, its nutrients, its temperature, and its pH. This data is to be sent via mobile phone to a Cloud server and then analyzed to adapt irrigation or fertilization to the conditions of the soil. The startup also uses drones to monitor the health status of the field and detect drought and pests. Hence, farmers are more connected and informed on their field, which allows for an increase in their agricultural production. 
Regulations for drones in Africa.
Aerial data must be regulated because it is related to the protection of privacy. Security must be reliable in all possible ways. However, UAV regulations around the world are still being developed, and Africa is not different but the current regulations are not the same in all countries. According to the drone traveler blog, in some North African countries, such as Morocco, Algeria, and Egypt private drones are prohibited. In Rwanda, Tanzania, Kenya, Botswana, drones are allowed to fly with the permission of the country's Civil Aviation Authority while in other countries like Liberia for example, there is no legal framework for the use of drones. In other parts of the world, regulations are set according to the weight of the craft, distance from the airport to the flying place, the altitude on which the drone fly on, the zone in which the drone is flying, etc…The harmonization of UAV regulations in Africa will make it easier for UAV operators to travel across countries, facilitating this industry's contribution to the economic and social development as envisioned by the African Union.