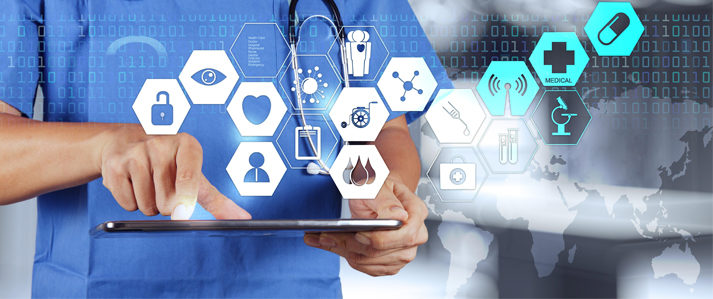 According to the World Health Organisation, e-Health is the dissemination and provision of medical information and services through telecommunications and computer technologies. Since it includes all facets of health programs, such as health promotion, prevention, education, testing, community data collection, and health management, the term e-Health is more descriptive than telemedicine. It is especially useful in remote areas.
Health services in developing countries should be able to benefit from emerging health technology, in order to respond more effectively to chronic disease, lack of health records, lack of health facilities in remote areas, poor road infrastructure, and other health sector challenges.
However, problems such as poor coordination of rapidly expanding pilot projects, fragmented health services, a lack of awareness and education about digital health, unstable electricity supply, poor internet access, and the communication gap of the various digital health systems are limiting digital health implementation in Africa.
Number of e-Health projects in Africa identified on www.do4africa.org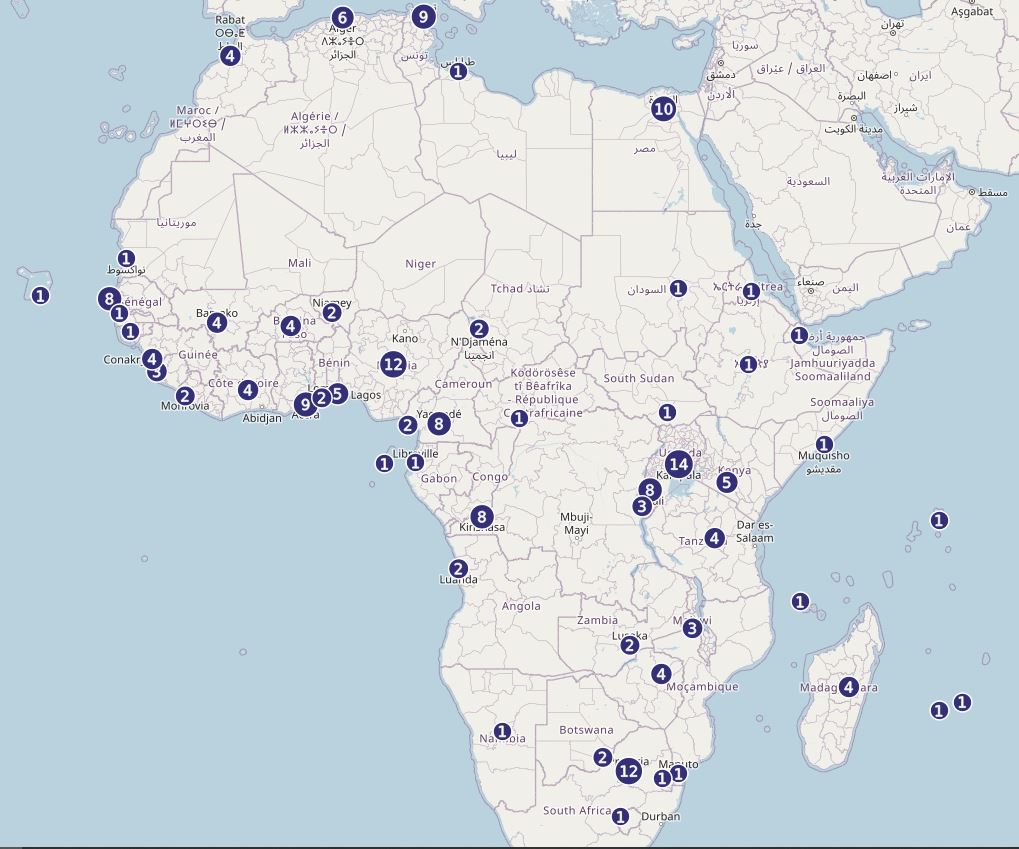 Learn more: https://www.do4africa.org/en/projets-2/
Why is e-Health important to develop health services in Africa?
Efficiency
E-health has the potential to save time. Patients, for example, may make their own appointments with their healthcare providers online instead of queuing for appointments. In addition, some solutions allow patients with certain conditions to get diagnosed online without leaving their house.
Insight into own health
People can have a better vision and understanding of their own health by using a personal digital healthcare environment. They can share any of their data with healthcare providers, which helps the healthcare provider to work more smoothly, easily evaluate the correct medication, and prevent errors because both patients and healthcare providers can easily access the patient's treatment history. 
Lower administrative burden
Doctors have less paper in their archives and can safely and efficiently exchange data with their colleagues for a better patient follow-up. 
Accessible in remote areas
While E-health solutions allow remote areas to be reached, they still rely on mobile and internet coverage. They can be a solution for Africa where road infrastructure is still a challenge in rural areas and citizens have to travel long distances to access health facilities. With their phones, they can have direct access to some health information. 
Useful tool during the pandemic and resulting lockdowns
During the Covid-19 outbreak, people have experienced a different life of staying home where almost all activities were shut down and people with chronic health conditions such as hypertension, cardiovascular diseases, and diabetes were at risk. People realized that e-health systems were very important since they could get an online diagnosis while staying home as this could reduce the spread of the disease as well. During this pandemic, e-health also helped in the provision of mental healthcare. Many common online platforms made it possible to achieve the goal of offering systemic, affordable, and comprehensive mental health resources to healthcare professionals and the general public.
Barriers to e-health Scale-Up in Africa
Infrastructure and Device Access
Adequacy of infrastructure to support digital health programs to scale up is still a problem in many African countries. Access to reliable electricity in many countries is poor, particularly in rural areas. Moreover, some areas are not yet covered by telecommunication networks, or poorly covered by mobile internet.  Digital literacy is still an issue for a large number of people who do not have enough skills in using digital devices.
Funding
Lack of sufficient funding for digital health programs is still a problem, the need for initial start-up expenses, which can be an obstacle to deployment, is a particular source of concern. For the long-term viability of e-health, financing solutions that tackle the use of digital means in the healthcare system should be reinforced. 
Policies and Government Leadership
In some countries, there are no consistent national guidelines and policies to integrate digital health approaches.  According to a USAID report: for promoting e-health growth, ministries of health and, more generally, the government must provide leadership in ICT for progress, especially in facilitating public-private partnerships. Greater cooperation among international organizations, governments, and local implementation organizations is needed to avoid vertical implementation of incompatible or redundant programs.
Some of the projects that are impacting e-health in Africa
Babylon Health
The Babylon Health Application works on making health delivery affordable and accessible to everyone. It can deliver unparalleled access to healthcare, including personalized health assessment, treatment advice, and face-to-face appointments with a doctor 24/7. Through a partnership with Smart Africa, Babylon is going to be working in 25 different African countries for health purposes. With the Babylon application, medical questions can be asked, it is possible to monitor the health and also obtain health and medical advice via video and audio, and doctor consultations.
Digitized Care Management System
A solution that equips healthcare professionals with digital tools that simplify the identification, registration, and monitoring of patients, such as connected wristbands, mobile reading terminals, and a management platform. The Digitized care management system has been deployed in South Sudan, Uganda, Tajikistan, Madagascar, DRC by World Food Program, and Famoco to address health care assistance and monitoring in the context of WFP nutrition programs.
Lifebank
Lifebank is a Nigerian platform that connects registered blood banks to hospitals. Thanks to Google, LifeBank incorporated Google maps into its mobile application, mapping out locations connecting doctors, blood banks, hospitals, and dispatch riders. It delivers supplies like oxygen, medical samples, and rare medicines.
Wekebere
Wekebere Limited, a Ugandan-based e-health startup has developed a solution that gives a simple wearable fetal monitor to expectant mothers in low-resource-constrained facilities where standard monitoring equipment is too expensive and not appropriately designed. This wearable is a lightweight belt with sensors that picks vital parameters from both the mother and the fetus, this information is processed, stored, analyzed on the cloud system that extracts features from the mobile app which helps the mother to connect with their unborn babies and view real-time information.
Denko Kunafoni
Startup in Mali specialized in the health of women, pregnant women, mothers, and children. It provides them with information on maternity, advice, and access to specialist doctors. An alert system by SMS and phone calls also reminds them of mandatory consultations and vaccination dates. Denko Kunafoni innovates by offering the possibility to communicate in the local language.
Baobab Circle
Baobab Circle offers an online coaching solution from Kenya to support people with chronic diseases such as diabetes.  The application is called Afya Pap. Through a chatbot, patients have access to the mobile phone to avoid complications related to their pathology. The startup relies also on behavioral science to encourage users to change their habits. The application also allows users to exchange with doctors remotely, to keep all the medical results. It contains a page with content related to the questions most often asked by people with diabetes. The business model of the company is based on partnerships with insurance. More than 50,000 patients have already used the service.
Pass Mousso
Pass Mousso is a digital bracelet that can be active day and night, able to record a person's health state and a list of family members in case of an emergency or incident. It has been tested in different clinics with 200 doctors and carried by 10,000 patients in Ivory Coast. By entering the bracelet code, the doctor is able to find easily all information related to a patient's health record. It allows a better follow-up if two doctors are treating the patient and it allows the family to be notified on time in case of an emergency. 
GiftedMom
Yearning to contribute to the fight against child mortality whose rates are alarming (51.5 deaths for 1000 births, in Cameroon, in 2020), the young computer engineer Alain Nteff Kezaf has created, in 2013, GiftedMom. It is a social startup with an eponymous digital application that reminds mothers and pregnant mothers of the dates of vaccinations or consultations.  It also consists of an algorithm sending personalized messages according to the age of the infant. The staff consists of 12 full-time workers, 2 doctors, 4 field officers working with more than 30 nurses in the hospitals of Cameroon. GiftedMom won the Anisha Prize in 2014, the Commonwealth best e-health application in 2016, and the 2018 Sanofi Challenges in Africa prize. It consists of 100 000 active users in 2018, of which pregnant women and mothers in remote areas of Cameroon benefiting from both a prenatal and a postnatal follow-up.
REMA
Launched in 2018, REMA (Réseau d'Echange entre Médecins d'Afrique) is a mobile application based in Benin aims to improve the quality of medical decisions by connecting all African doctors via a mobile application that allows them to publish, discuss, resolve patient cases and collaborate in real-time to make better medical decisions and save more lives. REMA is widely used by West African countries, with 75% of active users per month.
Shezlong
Egyptian start-up Shezlong's mission is to combat the stigma of mental health problems in North Africa. The company operates an online mental health platform that allows patients to connect to licensed therapists via mobile video or the web.
Kea Medical
KEA Medical, a platform from Benin aims at interconnecting African hospitals through a unique database in order to facilitate going through the health history of patients. The platform Keamedicals is based on the management of the electronic medical file of the patient by the Universal Medical Identity (UMI) of this latter. Through its web and mobile platforms, KEA Medicals offers its patients with the possibility to create their UMI as simply as if they created a Facebook account, providing basic information such as identity, allergies, chronic diseases such as arterial hypertension, diabetes, ulcer, the blood type, emergency contact details, etc.). After signing in, each patient receives an IMU identification QR code. The company then prints on different platforms (bracelets, patches, cards, QR code, the name of the patient, emergency number).
RdvToubib
The Algerian platform RdvToubib puts patients and doctors through. For patients, it works as a directory listing doctors that are close to their location. For the doctors, RdvToubib is a managing tool, allowing them to centralize their appointments. Thus, patients can connect on the Internet, quickly and easily, and schedule an appointment.
Signapps
Created in 2016, Signapps is a secure closed-loop messaging communication application from South Africa, designed to connect health care practitioners, institutions, and suppliers. The aim is to speed up and secure the coordination between the different actors using different modules: the Messenger module provides a secure way to share information about the patient, the Form module is meant to collect data about the patient, and the Storage module offers a secure archive solution. Signapps uses Chat Bots, Artificial Intelligence, and Blockchain to enhance its products. 
Conclusion
Because mobile penetration is higher than internet penetration, African health services are encouraged to specifically use cell phones to promote health care access, awareness and education, remote data collection, remote surveillance, and home care communicating treatments to patients, reporting, responding to epidemic outbreaks and emergencies. 
Following the Covid-19 pandemic, the number of ongoing e-health projects continues to grow in Africa in response to the challenges faced by traditional health services.