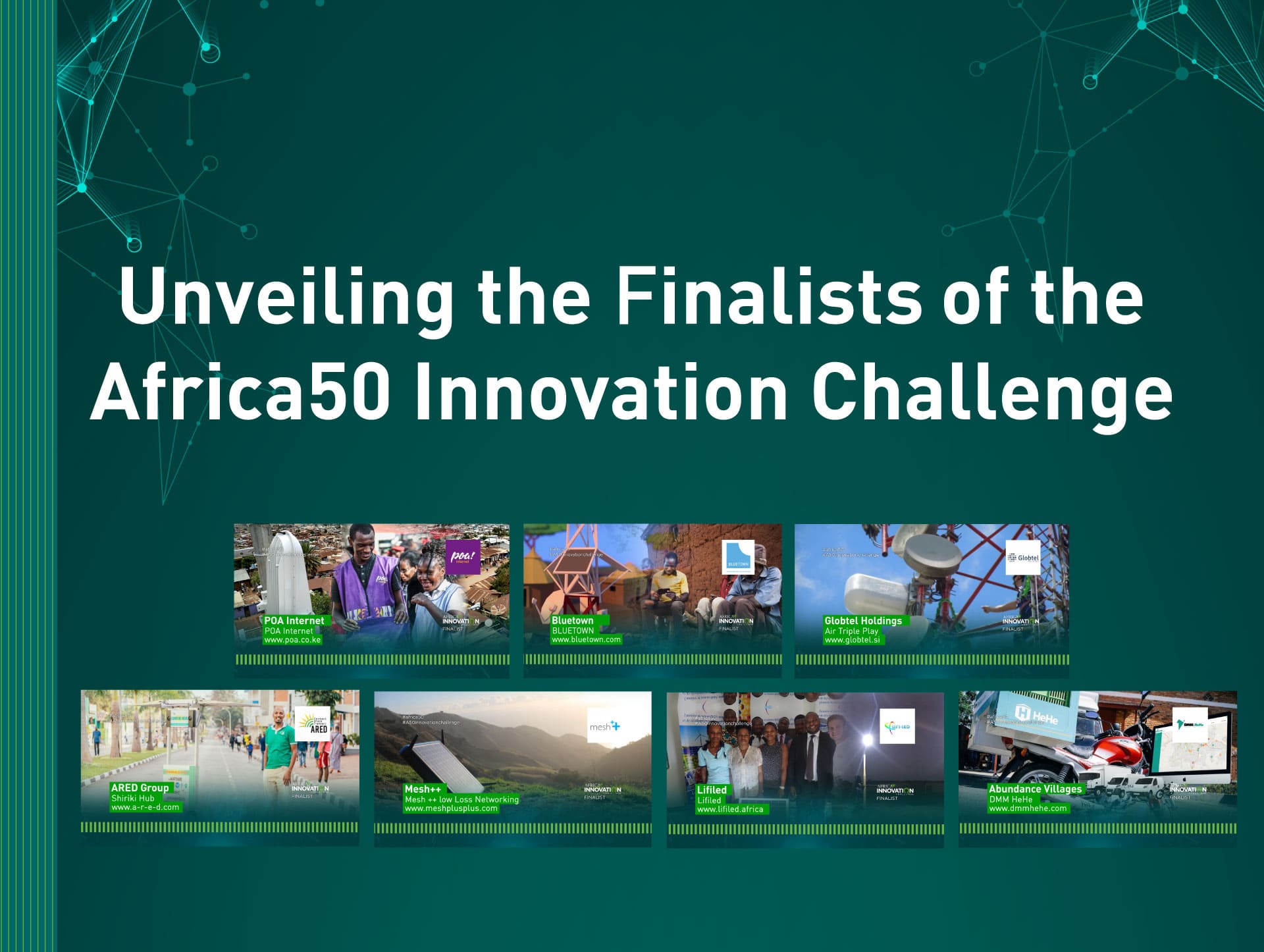 The Africa50 Innovation Challenge 2019 is a crowdsourcing initiative established by Africa50 the pan-African infrastructure investment platform. This challenge aims to help find last-mile internet solutions for Africa. The first edition of the Challenge called for solutions to improve last-mile connectivity to increase access to reliable and affordable internet in underserved areas of Africa. A global search conducted over five months yielded 673 proposals, more than 80 per cent of which came from Africa. The winning solutions will receive cash prizes and/or will be considered for project development funding. Projects will be rolled-out in Rwanda as the pilot country, with the objective to scale to other countries in Africa.
The Africa50 Advisory board was made by Mr. Alain Ebobissé: Chief Executive Officer of Africa50, Hon. Ms. Paula Ingabire: Minister of ICT & Innovation of Rwanda, Dr.Vera Songwe: Executive Secretary of the United Nations Economic Commission for Africa, Dr. Amani Abou Zeid: Commissioner for Infrastructure and Energy at the African Union, Mr. Solomon Adegbie-Quaynor: Vice President, Private Sector, Infrastructure Industrialization at the African Development Bank, Mr. Andrew Rugege: Regional Director for Africa at the International Telecommunication Union (ITU) and  Mr.Lacina Kone: CEO of Smart Africa.
The solutions have been reviewed by a team of 27 experts from different institutions such as the African Union, ITU, UNECA, AfDB, Smart Africa, Large ICT firms (Microsoft, Google, Viasat, Mozilla, Spaceconnex), Investment firms and legal firms specialized in technology ( Webber Wentzel, Third way), Startup Accelerators (Scale-Up Boost, Innovation Village, Pangea Accelerator, etc.), Telecom intelligence firms (Informa), Academia (Tunisia Research and Studies telecommunication Center), Rwanda ICT stakeholders (ICT Chamber CEO, KIC CEO).
Tactis, as a technical advisor in the telecommunications industry, has also provided an assessment of the top 30 solutions for the rural connectivity and in the next piloting phase Tactis' experts will keep working hand in hand with Africa50 by providing specific technical analysis studies.
Why last-mile Connectivity in Africa?
Last-mile connectivity usually refers to the connectivity between the main backbone and the end-users. Internet connectivity can directly affect the continent's economy since it drives increased exposure to information, innovation, and knowledge, at reduced costs. It enables access to education, health, and other social services, as well as employment and job creation opportunities. Internet connectivity also enables small businesses to access international markets and allows new industries to spring up.
The 7 finalists of the challenge
Poa Internet is an Internet Service Provider (ISP) providing wireless high-speed broadband to homes and SMEs in low income and semi-rural areas. The service already operates in 31 communities in Nairobi. They use redundant internet connections from Liquid Telecom & Telkom Kenya as backhaul. A partnership with Google X to pilot a new middle mile technology (FSOC) has also been realized where light is beamed through the air, this solution is ten times cheaper than traditional fiber for equivalent speeds.
This solution is an early-stage Internet Service Provider (ISP) and digital content platform, providing connectivity solutions to rural and semi-urban areas in Sub-Saharan Africa, India, and Brazil. They install the base station that establishes a WI-FI Hotspot able to cover 1km of Radius. The system is powered at 100% by solar power with rechargeable batteries as backups. This hotspot is connected to the internet by satellites. To enhance reliability, they added a local cloud, so that even when the internet is unstable people can still have access for free to some resources such as e-learning, e-government, e-health, e-agriculture, etc…
Globtel is an established private company with a presence in emerging and developed markets and looking to break into several African markets. The solution uses microwave signals (i.e. Wimax) to transmit information from base stations to receivers in households, over long distances, for a large number of users (~50,000 users per base station). Air solution was developed with the intention to bridge the digital divide. Air is a unique integrated wireless Triple play point (HDTV, Ultra-broadband and VOIP) to multipoint system solutions on the telecommunication market, providing microwave radio access to all the residential and business users in a radius of 50 and more km from every base station. The company is established in Mauritius.
The solution is a solar-powered kiosk platform along with a mobile router that provides connectivity and allows offline functionality. This solution developed by ARED provides internet connectivity to the rural areas by placing routers in each kiosk. Each router can host up to 50 users, administrators are able to upload some content on the routers so when they are not connected to the internet, users can still access the content offline. They can also upload some courses to be accessible for students using the intranet for example. The company turns these kiosks into franchises and targets in particular women and people with disabilities. It does, hence, generate flexible income, available for the targeted population. The franchises carry the kiosks on and even sell telephone recharges and travel tickets. The solution has been deployed in Burkina Faso, Cote d'Ivoire, and Uganda. 
The solution is a mesh network solution (solar-powered devices connected to one another through an integrated routing algorithm) that brings broadband connectivity to remote areas. Mesh++ technology allows for large-scale solar-powered efficient mesh networks, eliminating the need for cabling. Rather than a service provider installing and maintaining the network, Mesh++ networks can be expanded and maintained by individuals in a distributed manner and without a single point of failure, enabling new business models through independently operating technology and intuitive interfaces. The solution is currently being deployed in Goma (Democratic Republic of Congo) and seeks to expand in other African countries.
LIFI or VLC is a wireless communication technology based on the use of visible light generated by LEDs. Unlike WIFI, which uses the radio part of the electromagnetic spectrum, LIFI uses the optical spectrum. The solution offers the possibility of having access to both electricity via solar energy and high-speed Internet via satellite. Through their LIFI LED lighting network, users can have access to different multimedia content. LIFI Internet connection is 30 to 100 times faster than the WIFI connection. This solution is based in Ivory Coast and has a branch in Liberia. 
7. Abundance Villages
The solution provides internet connectivity to rural areas, management tools for their farms, and communication tools with their consumers and suppliers locally and internationally. Through an agent network of solar-powered, internet-connected Fulfilment centers, Abundance Villages provides communities with end-to-end logistics service from the first mile to the last, to eliminate supply chain inefficiencies in agriculture. Dependent on each community's backbone and backhaul connectivity as well as the level of economic activity, they have partnered with Internet Service Providers such as Intelsat through their local providers (MTN and BSC) to identify the appropriate solution to meet the community's needs and ensure the sustainability of the Abundance Village. They have been developing it for 7 years with an invested development amount of USD 1.5 million, with the solution being tested in 3 areas.
Rewards and Opportunities
The rewards and opportunities that will be provided include: investment or cash Prize, partnership with Africa50, publicity (Innovation Challenge website and  press articles), and ecosystem opportunities (referrals in online directories, reports and tech solutions mapping events, training, accelerator programmes, B2B matching, etc…)
Next step
The Finalists will be subject to further due diligence and the Winner will be announced in November 2020. The Final winner will receive investment from Africa50 to implement the pilot in Rwanda and a cash prize.